How To Start a Coffee Shop
If you've always dreamed of owning your own coffee shop, you probably already know that you're about to enter a highly successful, yet highly competitive market. Coffee shops are more popular than ever before, which is why there's at least one on practically every street corner.
If you're undaunted by the competition and you're determined to find a way to crack this potential gold mine of a market, here are some tips for choosing the best coffee shop:
Location, location, location. This well-known realtor's expression may apply more to coffee houses than to any other type of commercial food service property. If you want to be successful, you have to be in the right place, which means that you need to be where your niche market is.
The first step is to target your niche market. If you live in a university town, do you want to cater to students? If you live in an urban area, do you want to cater to business people or to concert and theatergoers? If you're interested in the latter, make sure your coffee house is near at least one of the major performing arts venues in the area. Likewise, if you're more interested in the morning business crowd, open up your shop in the business district of your city.
Other Things to Consider For Your Shop
Consider the available parking options. If parking isn't included in the lease or the property, look to see if there's a lot nearby that offers free, or inexpensive, parking. Lack of parking can affect your business drastically, especially if you're trying to attract people who are rushing to and from work.
Try to find a mixed-use residential area if you want to stay open during the evening. If you're in an area that's close to residential neighborhoods, you'll have a much better chance of attracting an evening crowd. The exception to this, however, would be if you decide to open near a major performing arts venue or sports arena, where you'll be able to attract plenty of evening customers.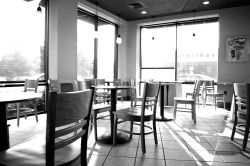 Find a building with a visible storefront that opens up directly on the sidewalk. This way, you'll attract far more walk-in customers. It may be cheaper to set up shop in an alley, but it won't pay the bills when customers can't find you.
Decide whether or not you want a drive-through window. Most independently owned coffee houses don't have one; instead, they leave this type of appendage to the big chain operations. If you really think you'd like to have a drive-through window, you'll have to make sure that the building you lease can accommodate one.
Don't compromise on space. If you find a perfectly darling little cubbyhole that's inexpensive but has only half the space you envisioned needing, don't think that you can make it work, because you can't. Buildings aren't shoes; they can't stretch. You'll end up losing business by not being able to accommodate enough customers and you and your staff will make yourselves miserable trying to serve people in cramped surroundings.
Now Get Started!
When you're considering options for equipping your shop, make sure you don't rush things. Take your time and do some comparison shopping so that you can be sure you're getting the absolute best quality equipment for the lowest possible price. Once you've found your location and gotten your equipment, you'll be all ready to start building a loyal, enthusiastic customer base.
Click Here for Coffee Shop Secrets. You'll get tons of good information about how to start a coffee shop including:

marketing secrets
the 4 critical issues you must address before you start up
and how to create a profitable menu

Plus there are some bonus books:

Coffee Shop Resources
Coffee Shop Contacts

Sometimes I've seen the price even lower than the website represents, so be sure to click through the order link to see the actual price.  Details here.